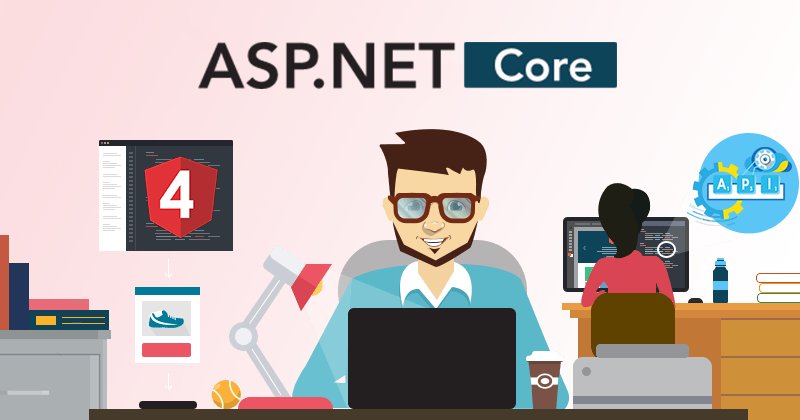 Getting Started With ASP.NET Core And Angular 4 Using WEB API
Code Part – – Now, it's time to create our first ASP.NET Core and Angular v4 application.
Since we have created the empty project, now we need to enable our project to work with WEB API and also to run the HTML files.
Ref link – – To install the Angular CLI to your project, open the Visual Studio Command Prompt and move the project folder path.
Since we need to display the Web API result in our Angular application, we need to import the HTTPmodul in app.module file.
In my next post, I will show how to get the data from database and display using ASP.NET Core, Angular v4, and Web API.
In this article, let's see how to get started with ASP.NET Core and using Web API. Select depending on your need and install the Visual Studio 2017 on your computer. If you have already installed Visual Studio 2017 then skip this part.

@CsharpCorner: Getting Started With #ASPNETCore & #Angular4 Using #WEBAPI by @syedshanu3 cc @CsharpCorner
Introduction

In this article, let's see how to get started with ASP.NET Core using Web API. Please read my previous articles which explain in-depth about getting started with ASP.NET Core Template Pack.

Prerequisites

Make sure you have installed all the prerequisites in your computer. If not, then download and install all, one by one.

Select the workload depending on your need and install the Visual Studio 2017 on your computer. If you have already installed Visual Studio 2017, then skip this part.

Once installed, you can open the Visual Studio 2017 to create your first ASP.NET Core and Angular v4 application.

Code Part

Now, it's time to create our first ASP.NET Core and Angular v4 application.

Step 1- Create ASP.NET Core Empty project

After installing all the prerequisites listed above, click Start >> Programs >> Visual Studio 2017 >> Visual Studio 2017, on your desktop.

Since we have created the empty project, now we need to enable our project to work with WEB API and also to run the HTML files. For displaying the Angular result, we need to enable the static files.

For this, right click on your project and click Edit (your project name).csproj.

We can see that our .csproj file is opened for editing.

Now, add these 2 below code parts for enabling the MVC and StaticFile Packages respectively within your…
Getting Started With ASP.NET Core And Angular 4 Using WEB API