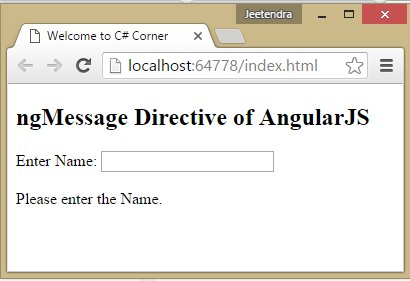 Introduction To AngularJS: ngMessage Directive – Day Twenty Two
The directive works the same as ngMessage directive.
The directive is used for displaying messages or error messages to user.
The above screen shot you can see, how we can use 'ng-message-exp' directive for displaying form validation messages.
Read the full article, click here.
---
@CsharpCorner: "Introduction To #AngularJS – Day Twenty Two by @Jeet_csharp cc @CsharpCorner"
---
In this article you will learn about ngMessage directive in AngularJS.
---
Introduction To AngularJS: ngMessage Directive – Day Twenty Two