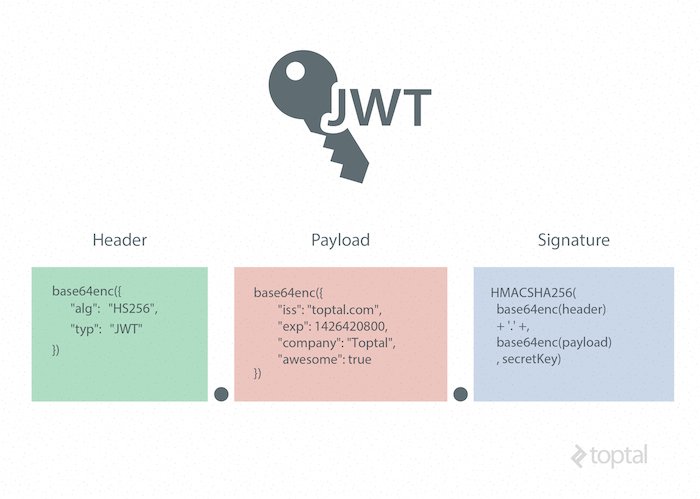 Techie Info BLOG: JSON Web Token Tutorial: An Example in Laravel and AngularJS
It comprises a compact and URL-safe JSON object, which is cryptographically signed to verify its authenticity, and which can also be encrypted if the payload contains sensitive information.Because of it's compact structure, JWT is usually used in HTTPheaders or URL query parameters.A JWT is represented as a sequence of base64url encoded values that are separated by period characters.JSON Web Token example:The header contains the metadata for the token and it minimally contains the type of signature and the encryption algorithm.
This JWT Header declares that the encoded object is a JSON Web Token, and that it is signed using the HMAC SHA-256 algorithm.Once this is base64 encoded, we have the first part of our JWT.In the context of JWT, a claim can be defined as a statement about an entity (typically, the user), as well as additional meta data about the token itself.
These are claims that we can define ourselves, like user IDs, user roles, or any other information.Using claim-names that might have conflicting semantic meanings outside of a closed or private system are subject to collision, so use them with caution.It is important to note that we want to keep a web token as small as possible, so use only necessary data inside public and private claims.This example payload has two registered claims, one public claim and two private claims.
Once it is base64 encoded, we have the second part of our JWT.The JWT standard follows the JSON Web Signature (JWS) specification to generate the final signed token.
However, if we want to add an additional layer of protection, we can encrypt the JWT payload itself using the JSON Web Encryption (JWE) specification.Of course, if we want to avoid the additional overhead of using JWE, another option is to simply keep sensitive information in our database, and use our token for additional API calls to the server whenever we need to access sensitive data.Before we can see all the benefits of using token authentication, we have to look at the way authentication has been done in the past.Because the HTTP protocol is stateless, there needs to be a mechanism for storing user information and a way to authenticate the user on every subsequent request after login.

@techgeorge_: JSON Web Token Tutorial: An Example in Laravel and AngularJS via @saifeecomputer
With the rising popularity of single page applications, mobile applications, and RESTful API services, the way web developers write back-end code has changed significantly. With technologies like AngularJS and BackboneJS, we are no longer spending much time building markup, instead we are building APIs that our front-end applications consume. Our back-end is more about business logic and data, while presentation logic is moved exclusively to the front-end or mobile applications. These changes have led to new ways of implementing authentication in modern applications.

Authentication is one of the most important parts of any web application. For decades, cookies and server-based authentication were the easiest solution. However, handling authentication in modern Mobile and Single Page Applications can be tricky, and demand a better approach. The best known solutions to authentication problems for APIs are the OAuth 2.0 and the JSON Web Token (JWT).

A JSON Web Token, or JWT, is used to send information that can be verified and trusted by means of a digital signature. It comprises a compact and URL-safe JSON object, which is cryptographically signed to verify its authenticity, and which can also be encrypted if the payload contains sensitive information.

A JWT is represented as a sequence of base64url encoded values that are separated by period characters.

The header contains the metadata for the token and it minimally contains the type of signature and the encryption algorithm. (You can use a JSON formatter tool to prettify the JSON object.)

This JWT Header declares that the encoded object is a JSON Web Token, and that it is signed using the HMAC SHA-256 algorithm.

Once this is base64 encoded, we have the first part of our JWT.

In the context of JWT, a claim can be defined as a statement about an entity (typically, the user), as well as additional meta data about the token itself. The claim contains the information we want to transmit, and that the server can use to properly handle authentication. There are multiple claims we can provide; these include registered claim names, public claim names and private claim names.

These are the claims that are registered in the IANA JSON Web Token Claims registry. These claims are not intended to be mandatory but rather to provide a starting point for a set of useful, interoperable claims.

, and the best practice is to place a file at that location describing the claim so that it can be dereferenced for documentation.

Private claim-names may be used in places where JWTs are only exchanged in a closed environment between known systems, such as inside an enterprise. These are claims that we can define ourselves, like user IDs, user roles, or any other information.

Using claim-names that might have conflicting semantic meanings outside of a closed or private system are subject to collision, so use them with caution.

It is important to note that we want to keep a web token as small as possible, so use only necessary data inside public and private claims.

This example payload has two registered claims, one public claim and two private claims. Once it is base64 encoded, we have the second part of our JWT.

The JWT standard follows the JSON Web Signature (JWS) specification to generate the final signed token. It is generated by combining the encoded JWT Header and the encoded JWT Payload, and signing it using a strong encryption algorithm, such as HMAC SHA-256. The signature's secret key is held by the server so it will be able to verify existing tokens and sign new ones.

It is critical to use TLS/SSL in conjunction with JWT, to prevent man-in-the-middle attacks. In most cases, this will be sufficient to encrypt the JWT payload if it contains sensitive information. However, if we want to add an additional layer of protection, we can encrypt the JWT payload itself using the JSON Web Encryption (JWE) specification.

Of course, if we want to avoid the additional overhead of using JWE, another option is to simply keep sensitive information in our database, and use our token for additional API calls to the server whenever we need to access sensitive data.

Before we can see all the benefits of using token authentication, we have to look at the way authentication has been done in the past.

Because the HTTP protocol is stateless, there needs to be a mechanism for storing user information and a way to authenticate the user on every subsequent request after login. Most websites use cookies for storing user's session ID.

The browser makes a POST request to the server that contains the user's identification and password. The server responds with a cookie, which is set on the user's browser, and includes a session ID to identify the user.

On every subsequent request, the server needs to find that session and deserialize it, because user data is stored on the server.
Techie Info BLOG: JSON Web Token Tutorial: An Example in Laravel and AngularJS