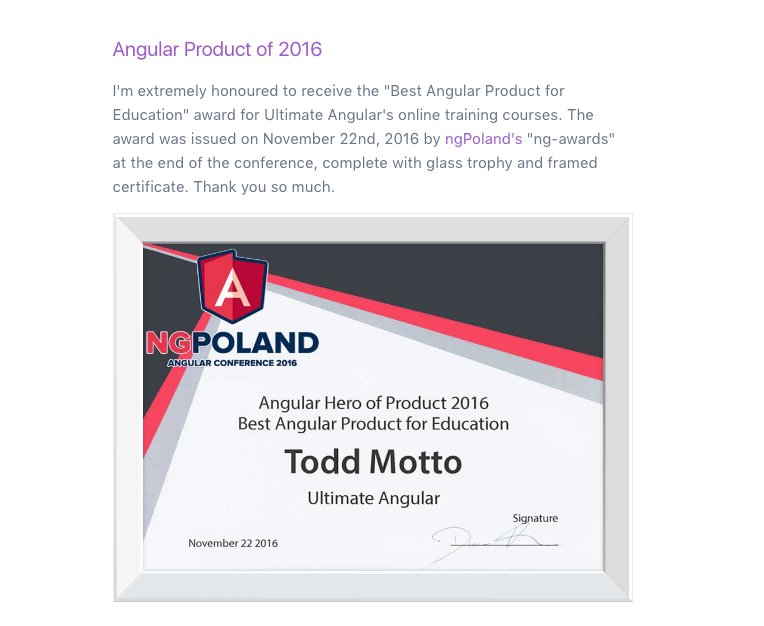 Based in England, UK. Ed is the lead designer and web engineer for Ultimate Angular.
Based in England, UK. Todd is the owner and trainer at Ultimate Angular.
Based in England, UK. James is a JavaScript and Angular engineer and Golang enthusiast.
Founded with a simple vision of bringing the absolute best training in the Angular ecosystem to you.
Get to know the Ultimate Angular team
Expert-led online Angular 1.x, Angular 2 and TypeScript training courses for individuals and teams.

@toddmotto: Just added the very kind award from @ngPolandConf to the Ultimate Angular about page! 😀
I'm extremely honoured to receive the "Best Angular Product for Education" award for Ultimate Angular's online training courses. The award was issued on November 22nd, 2016 by ngPoland's "ng-awards" at the end of the conference, complete with glass trophy and framed certificate. Thank you so much.

Founded with a simple vision of bringing the absolute best training in the Angular ecosystem to you. Ultimate Angular Limited is based in England, UK and trains thousands of developers globally through online course curriculum and in-person training.

Todd has been working with Angular for over four years, writes on his blog which receives over 3.5million hits a year, regularly speaks around Europe and the USA, has trained companies like Google, Virgin and other large teams.

The ethos and vision for Ultimate Angular is to not just show you how to write code, but enforce understanding – so you hit the ground running, but learn to walk first. We teach, but we focus strongly on ensuring you understand concepts and reinforce them throughout all training, be it through the online courses on in-person workshops.