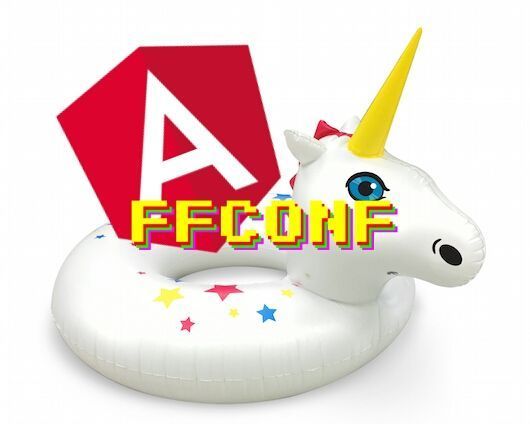 Looking to level up your Angular skills up to coming v5?
All things sparkly: ffconf, angular, unicorns, inflatables, stars…Looking to level up your Angular skills up to coming v5?👉 GET YOUR TICKET TODAY 👈In only few weeks Gerard Sans is running another awesome Angular training, this time, in collaboration with ffconf (my conference).
This is one of the UK's best web developer conference, now in it's 9th edition, carefully curated by me, Remy Sharp.During the training we will cover the following topics:New features in Angular v5New HttpClient including Interceptors and Unit Testing (since v4.3 and default in v5)New Animations including animateChild, staggering, query,…
Deep understanding of RxJS Core tests.Creating RxJS operators from scratch: mapTo, interval, timer, map and filter.Modern State Management using latest ngrx v4, devtools and ngrx effects.Advanced Routing using multiple outlets (auxiliary routes), Resolve and custom preloading strategies (custom lazy loading)Server Side Rendering (new platform-server), Best practices, TransferState (v5)Unit Testing in-depth:…
👈There's no other training giving you this level of depth or broader insight into Angular.This package not only includes a full day masterclass on Angular 5, but also a full pass to ffconf's event.
Eight phenomenal talks covering a wide range of important, and inspiring topics for all web developers.Take advantage of this Angular 5 course and free pass to ffconf, today!
In only few weeks Gerard Sans is running another awesome Angular training, this time, in collaboration with ffconf (my conference). This is one of the UK's best web developer conference, now in it's…

@gerardsans: Looking to level up your Angular skills up to coming v5? @ffconf #angular ✨🚀
All things sparkly: ffconf, angular, unicorns, inflatables, stars…Looking to level up your Angular skills up to coming v5?👉 GET YOUR TICKET TODAY 👈In only few weeks Gerard Sans is running another awesome Angular training, this time, in collaboration with ffconf (my conference). This is one of the UK's best web developer conference, now in it's 9th edition, carefully curated by me, Remy Sharp.During the training we will cover the following topics:New features in Angular v5New HttpClient including Interceptors and Unit Testing (since v4.3 and default in v5)New Animations including animateChild, staggering, query, router transitions and AnimationBuilder.Creating dynamic components.Creating your own structural directives (ngIf and ngFor).Creating your own custom decorators (read-only properties, debug Observables)RxJS in depth covering High Order Observables: mergeMap, forkJoin and switchMap.RxJS Marble Testing. Deep understanding of RxJS Core tests.Creating RxJS operators from scratch: mapTo, interval, timer, map and filter.Modern State Management using latest ngrx v4, devtools and ngrx effects.Advanced Routing using multiple outlets (auxiliary routes), Resolve and custom preloading strategies (custom lazy loading)Server Side Rendering (new platform-server), Best practices, TransferState (v5)Unit Testing in-depth: using spies, difference between TestBed.get/inject, when to use async/fakeAsync, Fixtures, DebugElement, query/queryAll, By.all/By.css/By.directive and new OverrideTemplate.👉 Get your ticket today! 👈There's no other training giving you this level of depth or broader insight into Angular.This package not only includes a full day masterclass on Angular 5, but also a full pass to ffconf's event. Eight phenomenal talks covering a wide range of important, and inspiring topics for all web developers.Take advantage of this Angular 5 course…