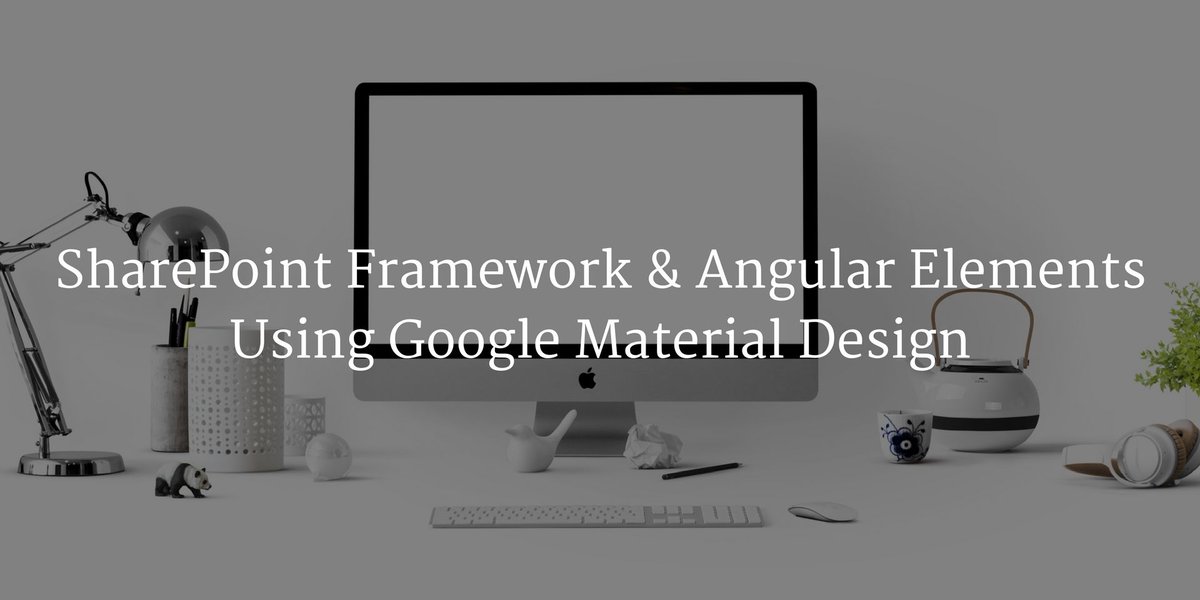 SharePoint Framework & Angular Elements : Using Google Material Design
This codes is based on pre-release of Angular Elements and a very "rough" integration with the SharePoint Framework.
I will update the posts and code when better support will be offered by both Angular and SharePoint Framework.
This post is part of a series of post on integrating the SharePoint Framework with Angular Elements – – First step in getting things ready for Google Material is to simply add the packages to your section of your so you can refer to the Angular Material packages inside your…
Here, the only code you will have to run is 100% Angular and has nothing to do with the SharePoint Framework!
Now that you can build your webpart using Angular Material, you will be able to build nice looking experiences for the SharePoint Framework!
One of the great feature of Angular is the easiness to use third party libraries. There are tons of open source libraries that can make you more productive while you are writing your code. On of my favorite (especially because I simple can't make things pretty) is Angular Material, the Angular implementation of Google Material Design. And even better, it fits nicely with Angular Elements withing your SharePoint Framework webparts!

@KbWorks: SharePoint Framework & Angular Elements : Using Google Material Design via @sebastienlevert
One of the great feature of Angular is the easiness to use third party libraries. There are tons of open source libraries that can make you more productive while you are writing your code. On of my favorite (especially because I simple can't make things pretty) is Angular Material, the Angular implementation of Google Material Design. And even better, it fits nicely with Angular Elements withing your SharePoint Framework webparts!

Angular Elements and SharePoint Framework are still in their developments. This codes is based on pre-release of Angular Elements and a very "rough" integration with the SharePoint Framework. I am still pushing those samples so you can start playing with the technology. Please don't use any of this in production as of today. I will update the posts and code when better support will be offered by both Angular and SharePoint Framework.

This post is part of a series of post on integrating the SharePoint Framework with Angular Elements

First step in getting things ready for Google Material is to simply add the packages to your section of your so you can refer to the Angular Material packages inside your code. There are 2 new packages to reference :

The only missing piece now is to install them in your folder. So go for it, run !

Those 2 packages will add all the features…
SharePoint Framework & Angular Elements : Using Google Material Design