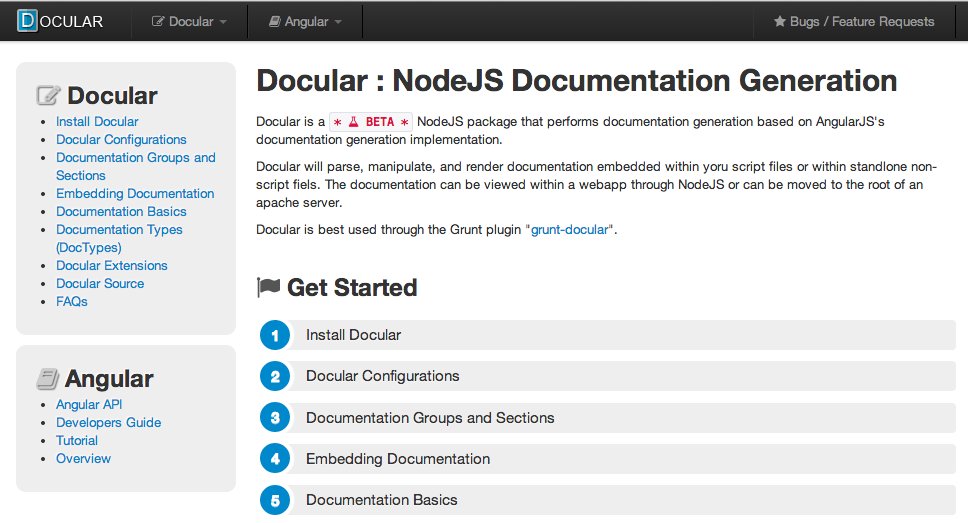 Sigh, AngularJS Documentation – allenhwkim – Medium
It generates the exactly the same style of AngularJS documentation from your code
Need to start a server to see the documentation
It's just JSDoc template designed for AngularJS
We can follow the guide , then run this docular to generate documentation
angularjs family use this; angularjs, protractor, and ionic
I was having hard time to document my angularJS directive, https://github.com/allenhwkim/angularjs-google-maps. The following is the list of documentation tools I have tried and built Why can't we…

@ng_real_ninja: Sigh, AngularJS Documentation #javascript
I was having hard time to document my angularJS directive, https://github.com/allenhwkim/angularjs-google-maps. The following is the list of documentation tools I have tried and built

Pretty but not simple

We can follow this guide, then run this docular to generate documentation

Simple but not pretty

Dgeni is a documentation generator developed by the Angular team.

pros:

cons :

Why can't we just have simple documentation generator like javaDoc? JSDoc works like a javaDoc,but it's not customized for AngularJS. Then, if I customize JSDoc for AngularJS using plugin and template….?

Ok, let me make that template and plugin for AngularJS,

…. A week later,

I wish this helps someone who wants to do document AngularJS code.