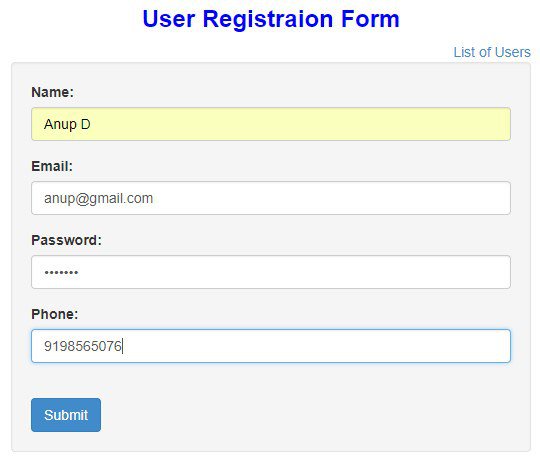 User Registration Form Example in AngularJS
You can see in the ContactService, according to our requirement we have 4 functions for listing all the users, get a user based on input id, save and delete and also we are initializing a contacts array to display the same when we run the application.
The functions in controller make calls to the functions in service on any action taken in the UI.
To add a new user, the user needs to enter all the details and click on the submit which will call the save function in the controller.
This function To update the existing user details, select a user by clicking on edit action.
To remove a user, select a user and click on delete action which calls delete function controller and followed by delete function in service.
The User Registration Form Example in AngularJS explains a step by step approach to register a user. It also features LISTING, EDITING, DELETING functionality.

@KrazytechNews: User Registration Form Example in AngularJS
In most of the websites, you might have observed that it features a Login and Registration link. This is done to authenticate a user and to provide some extra features/privileges to the user. The user needs to register himself first so that the username and password get created in order to enable the login functionality. Click on the link to learn login functionality in AngularJS.

So in this article, we will go through a step by step process to understand the User Registration in an Angular platform. Following are the salient features of this Registration example.

The registration example will have following two pages.

So let's begin with UI design. Please take a look at the index page as given below.

Next, we will see the controller javascript file as given below.

In a single javascript file, we have created one service and one controller together but you can even have both in separate js files and the index page.

You can see in the ContactService, according to our requirement we have 4 functions for listing all the users, get a user based on input id, save and delete and also we are initializing a contacts array to display the same when we run the application.

In ContactController, again we have four functions namely: Save, edit, delete and…