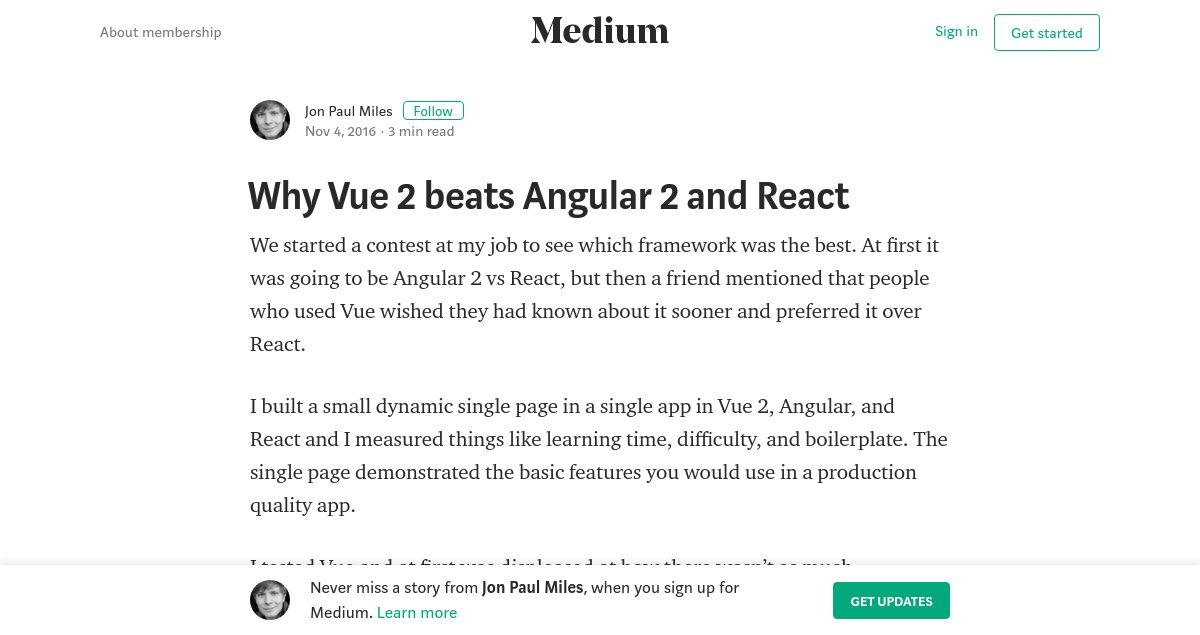 Why Vue 2 beats Angular 2 and React – Jon Paul Miles – Medium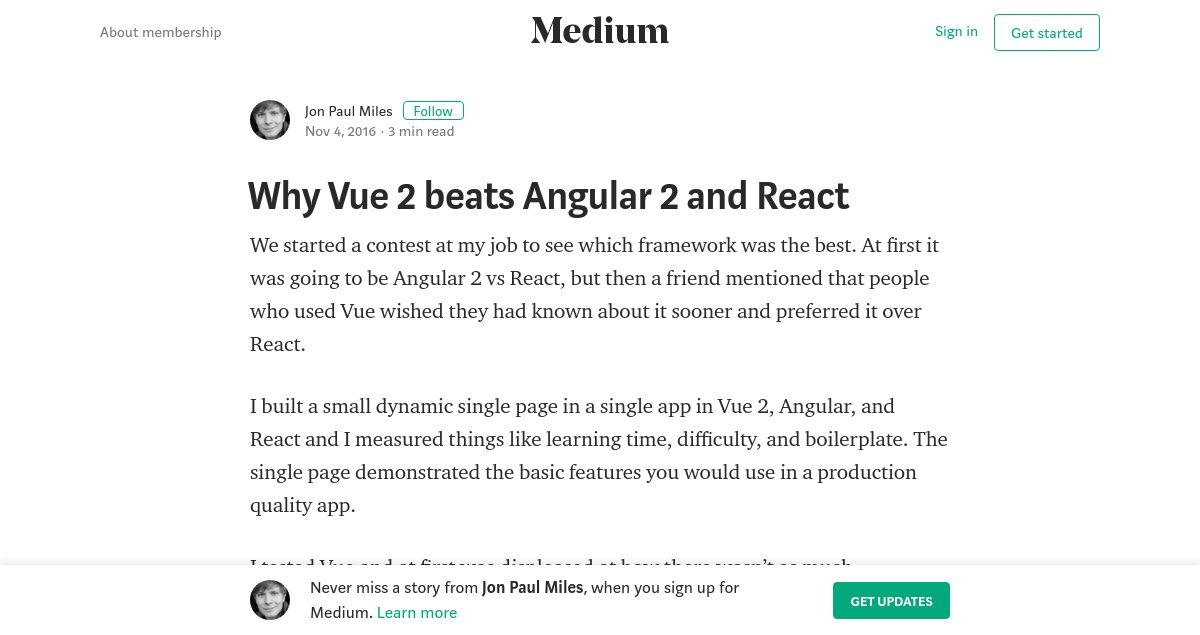 Why Vue 2 beats Angular 2 and ReactWe started a contest at my job to see which framework was the best.
At first it was going to be Angular 2 vs React, but then a friend mentioned that people who used Vue wished they had known about it sooner and preferred it over React.
I built a small dynamic single page in a single app in Vue 2, Angular, and React and I measured things like learning time, difficulty, and boilerplate.
Vue 2 combines the best parts of React, and Angular 1 2.
ConclusionFor any new web app, I will almost certainly recommend Vue 2 over React or Angular 2.
We started a contest at my job to see which framework was the best. At first it was going to be Angular 2 vs React, but then a friend mentioned that people who used Vue wished they had known about it…

@K0YCHEV: "Why Vue 2 beats Angular 2 and React" #angularjs #VueJS #reactjs #programming #devops
Why Vue 2 beats Angular 2 and ReactWe started a contest at my job to see which framework was the best. At first it was going to be Angular 2 vs React, but then a friend mentioned that people who used Vue wished they had known about it sooner and preferred it over React.

I built a small dynamic single page in a single app in Vue 2, Angular, and React and I measured things like learning time, difficulty, and boilerplate. The single page demonstrated the basic features you would use in a production quality app.

I tested Vue and at first was displeased at how there wasn't as much community support around it. So I moved onto React. I'll come back to that.

ReactReact was easy to learn. It took about 2 days to find my way around. The boiler plate was significantly less than Angular 1 and despite my initial disgust, was actually fun to write in. It's Redux state management revolutionized my world and would make building future apps much more organized.

Angular 2Angular 2 is a powerful framework but not my cup of tea and I prefer not to use it. It adds a lot of unnecessary work. Because it's more object-oriented computer science backgrounds and the many people coming from languages such as Java, .NET, and C++ should find it welcoming. However I think in general the javascript community wants to move more towards functional programming, using object composition…
Why Vue 2 beats Angular 2 and React – Jon Paul Miles – Medium