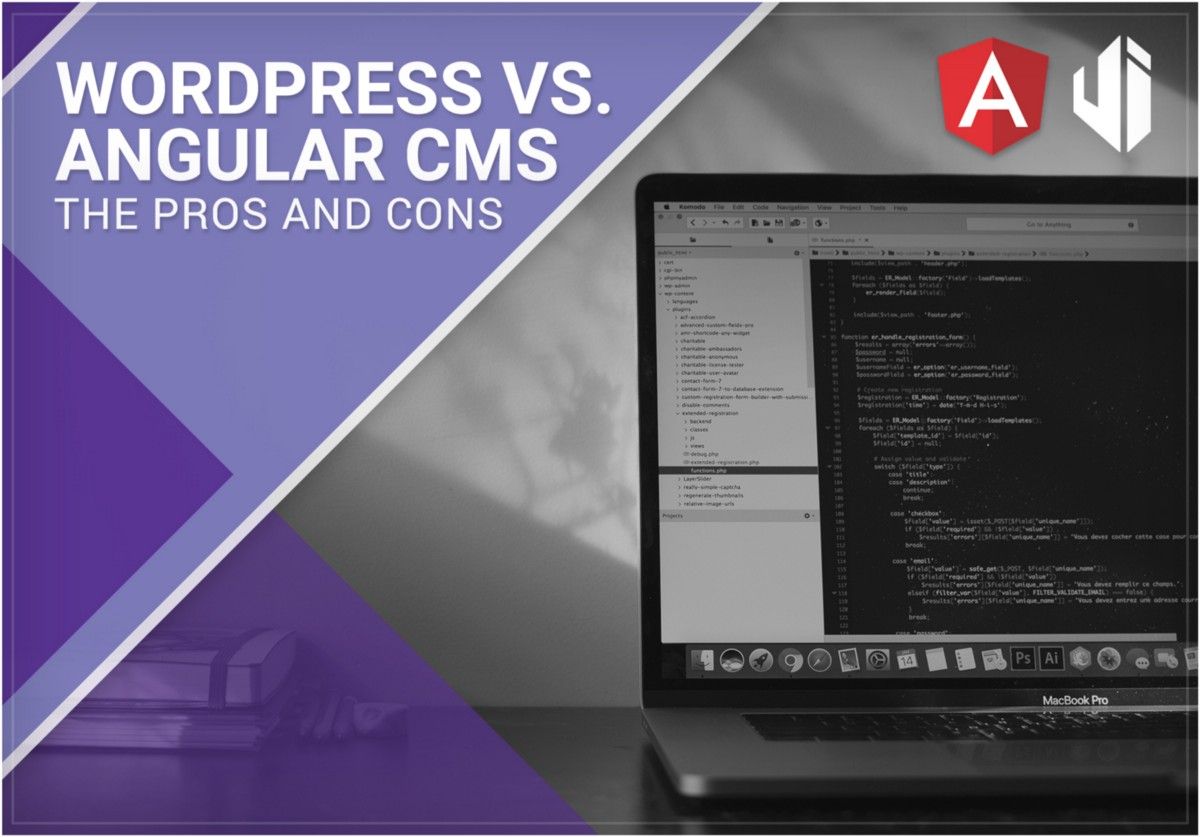 WordPress v Angular CMS – Upstate Interactive
And it is entrepreneur's or a manager's aim to get value for their investment.
For starters, when it come to development on CMS there is a promise of a Free Lunch in the form of plugins.
Plugins give the CMS buyer the promise that their developer can turn on plugins that enable the perfect functions for their instance.
Plugins are developed by developers that are third-party to the core development of a CMS.
Then the entrepreneur must re-invest in development so that their CMS can be updated without breaking.In the end, whether you pay for development upfront in the form of custom development or if you use plugins then pay later to keep them updated, there is no developmental free lunch.
We are absolutely not WordPress developers today. We all tried it. We don't care for it. (That's not to say we can't build with it , we have.) As developers, Angular makes sense. But does an Angular…

@UpstateAgency: WordPress v Angular CMS: The Pros and Cons #cms #angularjs
We have the CMS argument all the time at Upstate Interactive.

We are absolutely not WordPress developers today. We all tried it. We don't care for it. (That's not to say we can't build with it , we have.)

But we like Angular. We use it. We talk about doing more projects with it.

As developers, Angular makes sense. But does an Angular CMS make sense? Well, we've compiled the pros and cons as we see them. Have a look.

Conclusion: After weighing the pros and cons, the answer is dependent on the situation. Does the project already use WordPress? Then the answer to "Does an Angular CMS make sense?" is no. Is the project just getting started? Then the answer is yes.

Brand Power . A large number of clients know the name WordPress. They recognize it as a way to build a website, they understand that they can use it without knowing HTML or anything even resembling code. Agencies can benefit from the clients foreknowledge about WordPress and that means little education is required.

Robust. What can't you do with it? There are plugins and integrations and embeddable widgets and services and marketplaces. And all of them in large numbers.

Market Share that implies longevity . The client can take the WordPress website that the development team built to a new development team that has experience with WordPress. There are many development teams familiar with WordPress. So many that it is certain there will be development teams for a long time that can support their WordPress site.

It's in PHP. Not JavaScript. JavaScript is the most popular programming language among web developers, with 82% of developers knowing it. By comparison, 34% of web developers know PHP. PHP is also decreasing in popularity over the last 5 year and JavaScript is ticking upwards. The StackOverflow Developer Survey of over 20,000 respondents shows these statistics and more.

It's not attractive to developers. Our anecdotal experience is that most developers do not enjoy building in WordPress. This has a critical effect on clients — when their developers can get other work, they will go for it. Balancing the pro that a client will always be able to find a WordPress developer is the reality that they may always be looking for a new WordPress developer. Clunkiness and byzantine inter-dependencies seem to be the main causes of frustration.

It's monolithic. WordPress has a large and sprawling core of functionality. It means to please the entire planet of website owners — individuals, enterprises, and everyone in between. It can be a blog, it can be an eCommerce website, it can be a dashboard for business metrics — all at once. It becomes a monolith of features instead of a modular platform that can be very flexible to your needs.

It's got years of baggage. As a 14 year old platform, WordPress has a lot of quirks to it that are vestiges of another age on the Web. PHP is primary among them. Dependency on PHP is a problem that WordPress themselves sees, and they are attempting to change direction by removing PHP as a requirement entirely — and putting it on developers to create their own custom CMS pages.

High upkeep. WordPress is a high-profile attack vector for hackers. It also has plugins that are dependent on specific WordPress versions in order to function. As a result of the former, WordPress receives very frequent updates to patch security vulnerabilities. As a result of the latter, it is difficult to update WordPress without breaking your plugins. So you can require a lot of maintenance because the core is updated much faster than the plugins developed by third-party developers.

Well understood core. As developers of the CMS we are experts on it's inner workings and the strategy behind every decision that is put into it's development. So we can be sure that we are using the infrastructure as it was meant to be used.

Angular. Google runs their AdWords and DoubleClick products using Angular. These products are their billion dollar revenue drivers and performance and stability and testability and developer usability and longevity and documentation and code quality are demanded by Google. Angular ships with all of that built-in.

Modular. A modular structure is one whose features can be built/added/removed with clear relationships.

Lightweight. In other words, no cruft. As a custom-tailored CMS the admin panel will include only what you need, and nothing that you don't. The admin dashboard is easy to navigate and use. It grows as your needs do, but not before.

Sustainable Custom Development.* The same team who builds the CMS is also the team who builds the custom functionality that benefits your end-users. Every new feature fits hand-in-glove with the CMS core.

Fast-load speed. The amount of data needed for a download is a key factor in how fast a site will load. Angular Core weighs less than 100kb. The CMS can be deployed on Amazon Web Services Global Infrastructure to enable fast load speeds everywhere in The United States of America but also everywhere on the planet. The site will load fast, everywhere.

Free Bonus: There's no Developmental Free Lunch

Digital is the most valuable communication medium of our modern world. And it is entrepreneur's or a manager's aim to get value for their investment. So their energy, time, and dollars invested in digital need to have an upside.

However, they may not understand how to apply that investment and value the outcomes. For starters, when it come to development on CMS there is a promise of a Free Lunch in the form of plugins. Plugins give the CMS buyer the promise that their developer can turn on plugins that enable the perfect functions for their instance. The reality is different. Plugins are developed by developers that are third-party to the core development of a CMS. They are updated by third-parties. They are not in sync with the CMS core development. When the core is updated, plugins must independently be updated. There are popular plugins for which this is not a problem — those plugins have corporate backing and are businesses in their own right. But the vast majority of plugins can become obsolete within months of initial deployment. Then the entrepreneur must re-invest in development so that their CMS can be updated without breaking.

In the end, whether you pay for development upfront in the form of custom development or if you use plugins then pay later to keep them updated, there is no developmental free lunch.